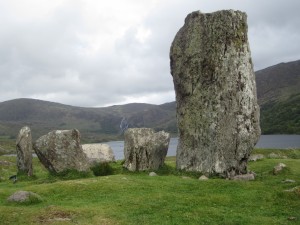 As I enter Ireland,I placed soil from my Mom's grave on her homeland.Calling her soul back to Home and eventually my own soul too.I felt immediately safe and comfortable. I have travel to a few places like Italy and Costa Rica and the feeling here was very different. It was magical and carefree. I get magical but carefree is not one of the words to describe myself. I had come to Ireland to understand my Mom and our Ancestors and to heal the wounds between us.
I walked in sacred sites/Forests and did ceremonies around the hurts and scarcities of my family. Laid belly to belly with the Land and shared the sorrows and tears. I felt held by Ireland. I brought a heart shape stick pin from the 80's that belong to my Mom, which I released into a running creek in a magical forest. It was if I was returning her energetic soul back to her Home Land with the creek washing healing waters over her and my soul. I left a few tears of my own there.
All the Irish folks were very warm and welcoming.There was abundance in food,drink and hospitality. I was surprised and delighted by all.Our bus drive named Brendan helped me connect the family line to different towns.He offered a view/story of Irish Folks,which in turn help me have a different view/story of my Mom and myself.
As I stood in the stone circle at the full moon, I called to all my Ancestors,calling for the healing of all generations 7 forward and 7 back. I called into the wind knowing the request was carried along the stones and the mountain ranges.
As a daughter, the tears streamed down my face,I felt the strengthen of the stone circle and the land.Finally I knew where my Mother got her strength, and courage to continue on in adversity. My Mom kept standing in her power each day like this stone circle stands each day ,no matter how strong the winds blow, they continue to stand strong. My Mom stood strong every day of her life no matter how strong the winds blew.I am honored and grateful to have been her daughter.
I close this writing today with strength and freedom in my heart.
Many Blessings,
Susan Angelo 6/2015